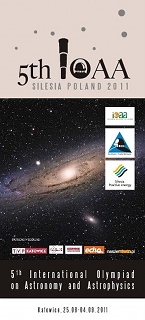 Proceedings of the 5th IOAA
Proceedings of the 5th IOAA cover - PDF 1,87 MB
Proceedings of the 5th IOAA chapters - PDF 8,64 MB
Proceedings of the 5th IOAA - PDF 104 MB
---
6TH INTERNATIONAL OLYMPIAD ON ASTRONOMY AND ASTROPHYSICS - 04 TO 14 AUGUST 2012
The International Olympiad on Astronomy and Astrophysics, or IOAA, is an annual event in which high school students from around the world compete against each other, solving theoretical, analytical and observational problems in the fields of astronomy and astrophysics. 
The 5th IOAA  was held in Poland from 25th August to 3rd September 2011, in the south of the country in and around the cities of Katowice, Chorzów and Kraków, thanks to the sponsorship of the Voivodeship of Silesia and the Ministry of Education. We were very pleased to welcome 29 teams of participants from 26 countries along with their Team Leaders. Congratulations to all the winners and thank you to everyone for coming and making this event possible! See you next year in Brazil!
Please explore this website for more information, and visit the IOAA page on Facebook!